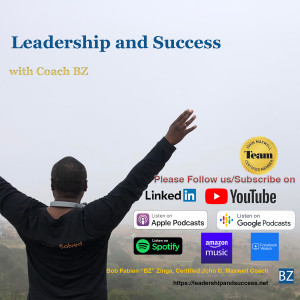 Thursday Nov 25, 2021
Episode 18 (Video): Gratitude with Coach BZ
Learn to become a better leader and achieve greater levels of success
I want to spend a few minutes to reflect on why I think one has to be grateful even in the face of great hardship, challenges, and trauma.  I believe the attitude of gratefulness can change one's life for the better.
On this Thanksgiving Day, WHAT are you grateful for?
I will also answer any question anyone may ask during the live event.
Related Article: "My 21 Days #GratefulChallenge": https://lnkd.in/gP23UmA
-------------- Useful Links --------------
To connect with Bob visit the following links:
Bob's Podcast (includes links to all major Podcast Platforms)
https:/www.leadershipandsuccesspodcast.com 
Bob's LinkedIn
https://www.linkedin.com/in/bobfabienzinga/ 
Bob's Forbes Author Page
https://tinyurl.com/bzforbesauthor 
Bob's Website
🔴 Please subscribe for more videos about Leadership and Success, help me build up this Youtube channel: 
https://tinyurl.com/youtubeleadershipsuccess 
🔴 Please subscribe, follow, rate, and add a review to  my Apple Leadership and Success Podcast, help me build up this channel: 
https://tinyurl.com/appleleadershipsuccess 
🔴 If you want to become a John C. Maxwell Certified Coach, please sign up at: 
https://jmt.leadershipandsuccess.net/